Pak Precise Engineering Pvt Ltd
Regular price
Rs.3,145.00 PKR
Regular price
Sale price
Rs.3,145.00 PKR
Unit price
per
Sale
Sold out
[EASY FOR CHILDREN TO OPEN THE DOOR] --- Unlike many door closers in the market, Primo1000 soft commercial door closer does not take a lot of force to open the door. It is designed keeping in mind the fact that all members of a home including children, women and elderly should be able to open the door.  yourself. With this hold open feature there is no need to use door wedges to keep the door open. 
[HOLD OPEN FEATURE] Holds the door open in range of 90deg to 180deg. When the door is opened over 90deg this door closer will hold the door in open position, unless closed
[LONG LIFE & PREMIUM QUALITY] --- These door closers for interior door and exterior are 500,000 Cycles Tested (approx 12-15 years life) according to British Standard BS EN 1154, High Strength, Corrosion Resistant, Aluminium Die-Cast Body. Precision Heavy Duty Rack & Pinion with Grade 3 Spring. 
[EASY INSTALLATION] ---Universal installation (regular/top jamb), primo door closer residential can be fitted on almost any type of door (left/right-hand side inside/outside opening doors) with the help of pictures on installation template inside the box. 
[ADJUSTABLE CLOSING & LATCH SPEEDS] --- Door Closing (full open to 15 degree) and Latch (15 degrees to full close) speeds of these door closers commercial can be fully adjusted according to your needs by rotating speed screws in either slow/fast direction. 
[WIDELY APPLICABLE & POWERFUL] --- Primo door slam preventer are specially designed to be used on all types of doors including home, office, indoor, outdoor and internal commercial applications. This door slam stopper can be used for doors weighing 45-60kg & door sizes up to 900x2700(mm) 
Share
Description

Looking for an easy and convenient way to keep your interior doors closed without having to manually close them every time? Look no further than our Auto Door Closer. 

Primo 1000 Automatic Door Closer is a high performance, durable, medium size (spring power size 3), 2 speed adjustable, surface mounted overhead door closer for a wide range of interior and exterior doors for internal commercial, residential and office applications weighing 40-65kg & sizes up to 900x2700(mm). primo door closers for interior door is suitable for all kinds of doors like wood, metal and glass doors. 

Crafted from high-quality material, this door closer ensures smooth and efficient operation while also ensuring long-lasting durability. It is manufactured according to British Standard EN 1154 and is 500,000 cycles tested (i.e. 12 to 15 years life if the door is opened and closer 100 times daily.) High Strength and Corrosion Resistant Aluminum Die-Cast Body with Precision Heavy Duty Rack & Pinion Mechanism and top materials confirm its long life and premium quality. 

This Hydraulic Door Closer is an essential accessory for any interior and exterior door and is particularly useful for families with children or pets. Whether you're looking to keep your home or office doors closed for convenience, security, or energy conservation, our Hydraulic Automatic Door Closer is the perfect solution. Say goodbye to slamming doors and hello to added safety and security with this door damper. Order yours today and enjoy the convenience of hands-free door closing! 
Features

Adjustable Closing and Latch speeds: primo automatic door closers has 2 independent speed adjustment screw valves for controlling the closing speed (full open to 15 degree) & latch speed (15 degree to full close) You can adjust the closing speed of your door to slow for senior citizen and wheel chair access and adjust the latch speed to slow for smooth latch or fast for powerful latch in windy conditions. 

Universal installation (regular/top jamb) primo screen door closer can be fitted on almost any type of door (left/right hand side & inside/outside opening doors) with the help of installation template inside the box. 

Install it yourself: Just paste the template on your door and door frame and drill on the hole points marked on template. Then mount and install your door closers for exterior door and interior door according to the instructions on template. Also watch the installation video. 

Which size door closer do I need? If your door measures below 900mm wide and 2700mm in height and weighs 45-60kg then this size 3 heavy duty door closer is the right choice 

Will it take a lot of force to open the door? Unlike many door closers in the market Primo 1000 soft door closer doesn't take a lot of force to open the door. It is designed keeping in mind the fact that all members of the family should be able to open the door easily. 

Convenience: With this Door Closer external, you no longer have to worry about manually closing doors. It provides a convenient and efficient solution for closing external and internal doors automatically. 

Safety: These door closers for internal doors are particularly useful for families with children or pets, as it helps prevent little fingers or paws from getting caught in closing doors. 

Security: The Concealed Door Closer provides an added layer of security for your property, by ensuring doors are always closed and locked. 

Durability: With its high-quality construction and heavy-duty design, the Storm Door Closer is built to last and withstand heavy use, reducing the need for frequent replacements. 

High-Quality Construction: The Automatic Door Closer is built to last, with a sturdy construction and high-quality materials that ensure it can withstand heavy use. 

Hydraulic Technology: The door spring uses hydraulic technology to provide a smooth and quiet closing action, reducing the risk of damage to the door and surrounding fixtures. 

Commercial Grade: Primo Automatic Door Closers are heavy-duty door closers that is designed for commercial use, making them ideal for high-traffic areas and heavy doors. 
Application

Specially designed to be used on all types of doors including home, office, indoor, outdoor and internal commercial applications. This door slam stopper can be used for doors weighing 45-60kg & door sizes up to 900x2700(mm)
What's in the Box

1x Closer 
1x Adjusting Rod 
1x Arm 
4x Screws (closer) 
2x Screws (adjusting rod) 
1x Lock washer 
1x Plain washer 
1x Life Size Fitting Template 
View full details
Easy to Open with Normal Force 
Unlike many door closers in the market, Primo1000 soft door opener does not take a lot of force to open the door. This door closer internal soft close open is designed keeping in mind the fact that all members of a home including children, women and elderly should be able to open the door.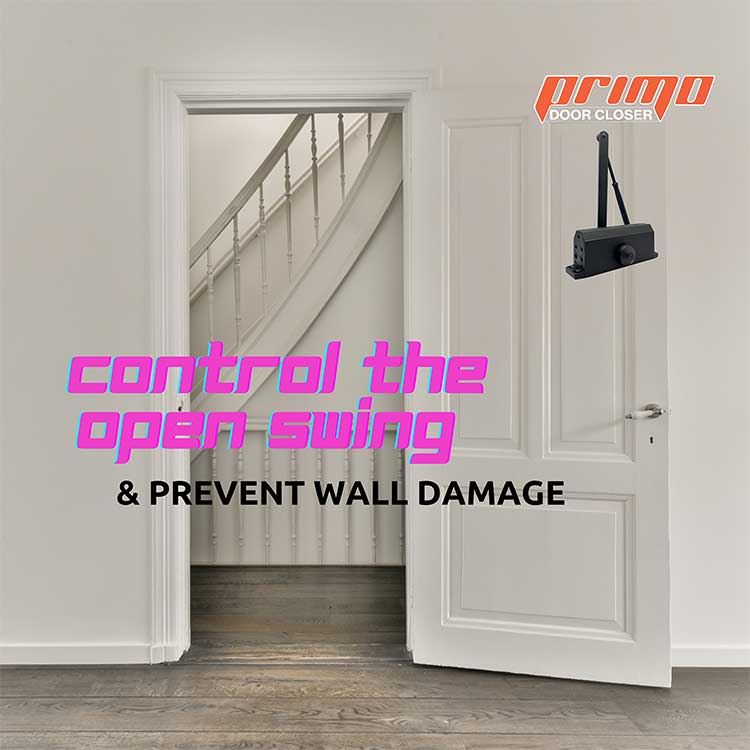 Control the Open Swing & Prevent Wall Damage 
With the use of this door springs to close door you can control the open swing of door. The open swing of doors can be dangerous when uncontrolled, such as when winds are heavy. People can also deliberately throw open doors violently. A door that's been blown wide open can damage the door, door frame, adjacent walls, and other property by hitting the opposing wall and any objects in the way. A fast-swinging heavy door will also injure anyone who's caught standing near the doorway.
Fire Rated
Maintain the fire-rating of your door by ensuring the fire doors are closed at all times with the use of this fire door closer. A fire door that doesn't latch completely can lead to an unsafe passageway or stairwell, and loss of life and damage to property in the event of a fire.
Prevent Slamming Doors 
Primo door closers for interior door Prevents Slamming of the Doors by children or windy conditions. This is because the door closer keeps the force and speed of closure at a certain level.
Keeps the Door Closed & Maintain Room Temperature 
Primo automatic door closer Maintains the Room Temperature by keeping the door closed. Every time someone passes through, the door is automatically closed and latched properly thus preventing the outside temperature to disturb your room temperature. Best for temperature controlled environments.